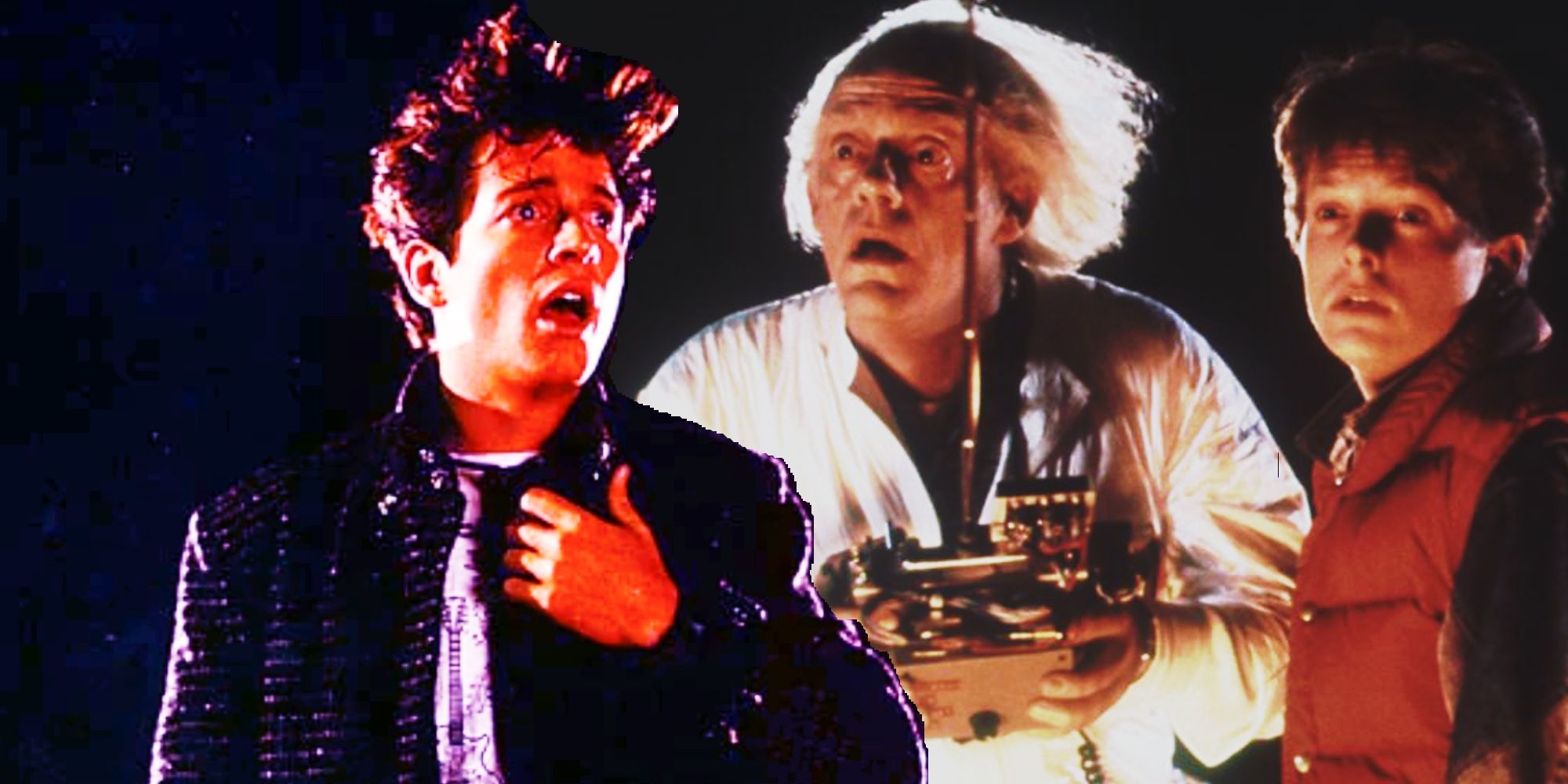 Although Eric Stoltz was fired as Marty McFly in Back to the Future, he actually made his way into one scene - here's where to spot him. Back to the Future has gained notoriety as one of the greatest sci-fi teen movies of all time, following teenager Marty McFly as he is tasked with making sure his parents get together in 1955 after his time-traveling antics risk jeopardizing his very existence. The 1985 movie stars Michael J. Fox as Marty along with Lea Thompson as Lorraine, Crispin Glover as George, Christopher Lloyd as Doc Brown, and Thomas F. Wilson as Biff.
When Back to the Future was first in production, Eric Stoltz was hired to play Marty McFly and managed to film a month's worth of scenes. The writers eventually decided to go another direction with the film and Marty's character, citing Stoltz's tragic reading of Back to the Future's ending as part of why they let him go. Stoltz was eventually replaced by Family Ties actor Michael J. Fox, who landed more of the comedic beats and connected to the younger '80s generation with his Alex P. Keaton character. Back to the Future reshot almost all of Stoltz's scenes with Fox, but the former can still barely be seen in a climactic shot.
Related: Why Disney Turned Down Back To The Future
As Marty sits at the diner with his father back in Back to the Future's 1955 timeline, the town's bully, Biff, walks in to cause trouble for George when he's finally about to ask out Lorraine. Marty trips Biff, leading to a confrontation where Marty ends up punching Biff in the face. While the lead-up to the punch is clearly Michael J. Fox as Marty McFly, when the film is slowed down, it's clear that the person actually throwing the punch is Eric Stoltz. Since the punch primarily shows Biff's face, only the side of Marty's face in a fast motion can be seen, but it's clearly not Michael J. Fox.
In the Back to the Future clip, the transition shows that Michael J. Fox's Marty McFly hair goes from brown to almost black, which is how Eric Stoltz's hair was dyed for the role. It's also apparent that there's a sudden shift in height for Marty from when he winds up his fist to when the punch actually lands on Biff. Michael J. Fox's height is only 5'4" compared to Thomas F. Wilson's staggering 6'2" build, so it's clear that there was a change when the actual punch shows Marty much more level to Biff, with Eric Stoltz's Marty standing at an even 6 feet tall. It's also apparent that Biff looks a bit younger in the close-up than he did moments earlier speaking with Marty, which would be attributed to being filmed long beforehand.
To support the claim that the Back to the Future scene's Marty actually is Eric Stoltz, Thomas F. Wilson explained in an interview with Nerdist that he truly believes it is Stoltz that punches him. Wilson said he doesn't believe Back to the Future reshot the punch scene because it was just a closeup of Biff, only redoing the parts where Marty's face is shown. There's much speculation that the rumors have been denied by production simply because they would have to pay Stoltz for his appearance if it was confirmed. Since Eric Stoltz was fired a month into Back to the Future's three-month shoot, it's more than likely Wilson is correct and they never reshot the scene, leaving the original actor in the movie's final cut.
Next: Back To The Future's Deleted Darth Vader Scene Makes It Even Better
from ScreenRant - Feed